Summer is here and with it is the increase in temperature and heat waves in the atmosphere.
In this gruelling hot climate, body fluid levels can plummet in a very short period of time leading to dehydration and it's accompanying harmful effects.
These effects include muscle fatigue and cramps, decrease in coordination, heat exhaustion, etc.
If appropriate steps are not taken, heat exhaustion over a prolonged period of time can lead to a potentially life-threatening condition called heat stroke.
The fact that 60% of the human body is water indicates how important water is for our health.
In our body, water plays a pivotal role in allowing cells to operate normally, functioning of all the organs and their processes, digestion of food, and in maintaining a healthy level of hydration to prevent metabolic, digestive and neurological dysfunction.
When it comes to maintaining a healthy body and mind, optimal hydration is simply indispensable.
So it is absolutely essential that you meet your required daily intake of water.
To meet this purpose, here are 10 such healthy foods and beverages with a high water content that will keep you hydrated this sunny season.
Coconut water
Coconut water is the go-to drink when it comes to quenching thirst in the exhaustive summer heat.
With 95% of it being water and containing just 19 calories per 100gm serving, it is the ideal drink for shooting up your water intake without increasing your overall intake of calories.
It is also rich in potassium, which is required for building proteins and muscles, maintain appropriate body growth and break down and use carbs.
Fruit juices
Fruit juices are probably the tastiest way to meet your hydration needs.
Here are the top fruits in accordance with their water content:
Watermelon: 92%

Strawberries: 91%

Cantaloupe: 90%

Peaches: 89%

Grapefruit: 88%

Oranges: 88%

Pineapple: 86%

Apricot: 86%

Raspberry: 85.8%

Blueberries & Plums: 85%
There are more fruits like apple, grapes, and cherries which boast a considerable amount of water content themselves.
So pick out your favorites from this long list and prepare their juices at home or when you are outdoors, head to a nearby juice store for a quick drink.
Vegetable juices
Vegetables
are another health-enriching food source provided to us by nature that has a significant amount of water content.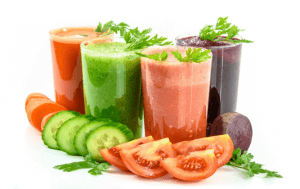 Here is the list of the top vegetables in keeping with their water content:
Lettuce: 96%
Cucumber: 95%
Zucchini: 95%
Radish: 95%
Celery: 95%
Tomato: 94%
Spinach: 92%
Cabbage: 92%
Cauliflower: 92%
Carrots: 87%
Vegetables are a healthier alternative to fruit juices as they do not have the high amounts of sugar found in fruit juices.
So you can have plenty of servings without having to worry about your sugar intake.
Smoothies
Smoothies are a great way to hydrate yourself courtesy of their nutrient-rich nature and savory taste.
Combine your favorite fruits and vegetables along with the regular smoothie ingredients in a blender to make a delicious healthy smoothie that will quench your thirst and feed your taste buds.
Broths & Soups
Broths and Soups have high amounts of water and are a great way to nourish yourself by taking in the nutrients of vegetables, bones, meat, and fish.
Add lots of vegetables like onions, tomatoes, mushrooms, and carrots to your soups and broths to up their nutrition content.
Skim milk
Besides being an abundant source of calcium, milk is also great for hydrating your body.
Research has shown milk, particularly chocolate milk, to be a better alternative to sports drinks and water when it comes to recovery and rehydration after exercise.
This is partially owing to it being a rich source of protein and containing electrolytes.
But there's a catch to it.
If you consume whole milk, the substantial amount of fat present in it can delay the replacement of fluid in your body, leading to a lack of immediate hydration.
So it is advised to always opt for skim milk, whether it be the normal variety or the chocolate one.
The majority of skim milk consists of water, with it containing around 91% water content.
Besides comprising of a generous amount of water, it also contains ample amounts of minerals and vitamins, including phosphorus, potassium, calcium, riboflavin, vitamin A, and vitamin B12.
Plain yogurt
Another dairy product that is ideal for hydrating your body along with containing a glut of nutrients is plain yogurt.
As with milk, it also has a high water content(88%) and is a rich protein source along with containing the vitamins and minerals found in milk, like calcium, phosphorus, and potassium.
Consumption of
plain
yogurt consistently over a period of time is also known to aid in weight loss as it makes you feel full and reduces cravings through its high level of protein and water.
The reason behind emphasizing the word plain is that flavored yogurts, most of the time are laced with high amounts of added sugar, which is certainly not recommended for someone looking to maintain good health and oversee weight loss.
Cottage cheese
The presence of dairy products in this list just doesn't seem to end.
Cottage cheese with 80% water content, high amount of protein and a sizable amount of minerals(phosphorus, selenium, calcium) and vitamins(riboflavin, vitamin B12) is another highly nutritious dairy product which you can consume for meeting your required intake of water along with simultaneously boosting your health.
Coffee
Coffee is known to be a diuretic but that doesn't necessarily mean that it causes dehydration.
Recent research studies have debunked the myth that coffee causes dehydration and have lead to the conclusion that coffee has similar hydrating qualities to that of water and consuming it in moderate amounts can actually help in improving hydration.
Conclusion
Hydration is a major issue in the summer and if you are not used to drinking large amounts of water after periodic intervals, this problem can further escalate, affecting your health in the process.
The foods and beverages depicted above can be your solution to this problem as they will help you steer clear of dehydration besides enriching your health with their abundance of nutrients.