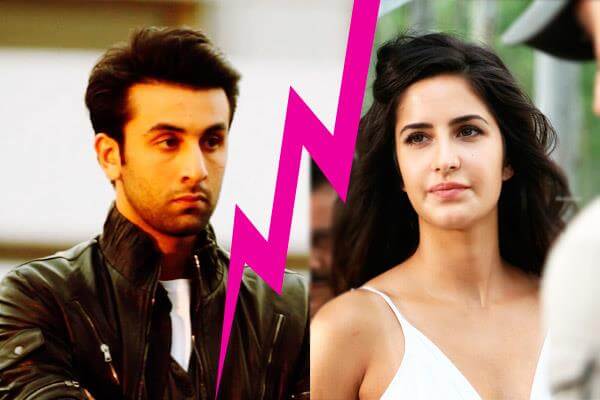 The insecurities that Katrina had in the relationship is evident. The reserved, reticent actress' explosive GQ interview is testimony of that.
She had said, "My greatest fear is that if and when I get married and I am standing at the altar or the mandap, he (the groom) may not love me completely. That he may not know his mind well enough to be making those commitments. The anticipation of heartbreak is my only fear."
Top reasons for Ranbeer-Katrina Breakup :
Ex Girl Friend Deepika Padukone

Ranbeer-Deepika kissing scene in Tamaasha movie

Ranbir's Kapoor ex-girlfriend Deepika Padukone had nothing to do with the break-up. But Katrina was not happy with the two ex-lovers working together.She was quoted saying, "I can't enforce my will on the people in my life. Their choices are their own. I may not be happy with them but I hope that as they mature or as they evolve, their choices will change!"But Deepika is committed to making her relationship with Ranveer Singh work.

Kapoor Family    During her interview with GQ Katrina almost sounded unhappy for not being close enough to Ranbir's parents.

Cropped picture posted by Neetu , But revealed the real pictu

She said, "I am not as close to Ranbir's family as I would like. But I would like to hang out with them more. Family would be a defining factor when I make the decision to marry. I am a very responsive person. So, if my partner gives me what I need, I can be the best girlfriend you can wish for."

Ignorance of Katrina in Kapoor family's party

It was out in the open that Ranbir's parents did not approve of Katrina. His mother Neetu Kapoor was unhappy with Ranbir moving in with Katrina. At the Kapoor's Christmas brunch when Katrina accompanied Ranbir, Neetu decided to skip the party. Kat is also ignored by other family members during party.

Lover Boy Image of Ranbir Kapoor    From the very beginning the two actors were cagey about going public. Also, Ranbir's non-commitment on wedding plans was a big reason for the split. The actor would develop cold feet each time this subject came up. From his first film with Sonam Kapoor , after that Deepika and then Katrina(with no commitment)Katrina's GQ interview again revealed that she feared of being cheated onThe actor stated, "See men and women, they're different. Women give birth to babies, men don't. We can't say 'oh equality on all levels, we're all the same. No, our biological needs and bodies are different. Men have been the hunters and the philanderers."Being with an actor has its own set of issues, but the basic differences arise because men are men. Cheaters will cheat anywhere," she added.                                                             As , in the party of kapoor's family Katrina Kaif is also ignored by Ranbir Kapoor.
Recently, Ranbir moved out of their apartment. He was seen leaving the house with all his belongings.
But all these break-up news doesn't sound that convincing. There could be more to the whole story then what meets the eye.
Ranbir and Katrina will have to complete their upcoming film 'Jagga Jasoos' and a scope of a reconciliation can't be dismissed.
4. Salman Khan and Katrina meeting just before breakup
Katrina Kaif and Ranbir Kapoor are not seeing each other any more, here's something that will set your heart racing: Rumour has it that there could be a possible Salman Khan connection to the break up. Katrina reportedly met her former beau Salman Khan on the sets of Sultan, just before news of her break up surfaced.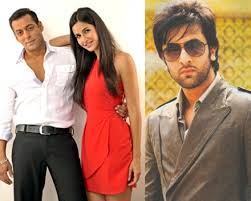 She was also spotted with Khan in Mumbai, again, on Saturday night.
According to a report in Mumbai tabloid MidDay, the Fitoor star was already at the venue when Salman Khan arrived around 1 am on Saturday. Filmmaker Kabir Khan was also there with Salman.
The two actors who are teaming up for Anurag Basu's Jagga Jasoos have reportedly called off the shoots of the film. A source tells, "A small portion of the film is left to be shot and now due to their personal differences and break-up, neither Katrina nor Ranbir is ready to shoot with each other. Now this has left the producer and the director in a soup. The film has already been delayed and a lot has been invested. The makers are yet to figure a way out of this sticky situation."
A little birdie told us that Ranbir's philandering nature wasn't the only reason that Katrina finally decided to part ways with him. The biggest issue that Kat had with Ranbir was his non-committal attitude towards her. While she wanted marriage, Ranbir was never ready for it. And that's how their relationship cracked in no time. But nevertheless, Ranbir and Deepika did work in films together and maintained to be friends with each other. Given the current situation, if it doesn't change in the next few weeks, we are quite sure that no matter what happens, don't expect the same from Ranbir and Katrina. They might not ever be seen together in a film. And that's a big issue now because JJ is made to be a franchise film eventually.
For now, they have to complete the film they are contractually bound for. What needs to be seen is whether they cordially decide to build a professional relationship (that's the least you can ask for!) like Ranbir and Deepika or they go the Shahid Kapoor-Kareena Kapoor way and shoot their respective portions. Alag alag. Remember Milenge Milenge?