It's truly said by some one that if you are passionate about something and work hard towards it, you will be surely successful. Exactly this is what team of Pratishtha Foundation has done to achieve their goal without caring what people and society would say while they are doing little things for under privileged children.
Pratishtha started its journey with four slum children. And today it reached to across the country and became one of famous and most acceptable NGO in the country.
Journey from First Step toward:
Before three year Deepak Kothiyal and his brother as two volunteers had started there passionate journey with four slum children. Their main motto was to educate those 4 slum children whose parent cannot afford to educate and provide facility like normal affairs to their children.
Afterwards, more and more children, connected with those 4 slums children got associated with them and slowly their team strength started growing day by day. Within 1 years, they were associated with 10 volunteers and 40 children.
  And then, the journey  of ENTHUSIASM and passion has begun 
Problem and Difficulties faced during the Journey:
All the team members along with both Deepak and Chandrashekhar Kothiyal were well educated still they were jobless because of their different dreams and a will to do something different from others but their parent and family members were not in favour of their passion. Family pressures were increasing day by day; instead of these all difficulties they had established their Partistha Foundation.
In early stage of Establishment of Pratishtha Foundation they had faced lots of problem like proper space for children's education, gathering children and lack of resources etc. but having all these problems, they got what they wanted.
Someone had said that your work is going to work it fills large part of other's life and the only way to be truly satisfied is to do what you believe great work is. And the only way to do great work is to love what you do. And all volunteers of Pratishtha really loved their work. 
All the volunteers cum team members are well educated and very passionate about their dream. Yes, they can easily live their luxurious life or serve for MNCs but these guys are serving to bring a change. And right now, they all have only one dream project that is nothing else but Pratishtha Foundation.
Finally got success:
When day by day team of volunteers and children were increasing they needed more space to facilitate children, they spoke to Principle of a Government School to provide space in the evening so that they can properly reach student in well manners.
As earlier these 10 team members didn't want to register any NGO for all these work but they just wanted to serve for slum children to make smile on their faces. But, after seeing the lack of facilities, people suggested converting their groups into a NGO and thus, finally in 2016 they got their Pratishtha foundation register as NGO.
Pratishtha Foundation AIMs upon:
This NGO is totally youth based and thus many youngsters started contacting Pratishtha for their volunteer services for following services,
To provide meaningful and quality based education to slum children.
To help children to discover their hidden potential.
To provide overall growth to children.
To bring positive change to society.
To resolve all problem of women and girls regarding their education and health.
Various projects running under Pratishtha Foundation: To fulfill their all possible aims, Pratishtha Foundation runs many other projects like,
1. First Project under Pratishtha were "SAKHI":
This project is totally based on women, their problems and respective solutions. Under this project each and every problem get discussed and solved with proper strategy and plan. SAKHI project started with educating on one of the major problem faced by all women and girls either belong to urban or rural area i.e. menstruation.
Being one of the most sensitive topics among society where no one wanted to talk and discuss on this, team "SAKHI" has got involved and solve this problem. Team members of SAKHI" visited every village and houses and organized camps for women to teach them about their health and related facts about menstruation.
As we know very well that rural women generally uses clothes during menstruation which actually causes health problem and it can even reach to death. Thus, "SAKHI" team started teaching women about menstruation, sanitary napkins and their use.
2. Second project under Pratishtha is PARIVARTAN:
This worked on changing society mindsets and society development. This group mainly dealt to make bridge between rich and poor people, a bridge b/w Private School and Government School students. Under this project, they focused to facilitate all resources to Government School students as well, like any other private school students.
3. Third one is SHARING OF SMILE:
Work for poor children do bring smile on their face through organizing various activities like painting, singing, dancing, art and crafts, game etc. Team member used to collect stationary item, toys, clothes from various colleges and school and distribute these all items among poor children to bring smile on face.
4. Fourth is SHIKSHA:
Uplift quality and meaningful education to poor children and underprivileged parents. This project tries to help them to give them quality education so that even underprivileged talents may also get equal chances to become future of tomorrow.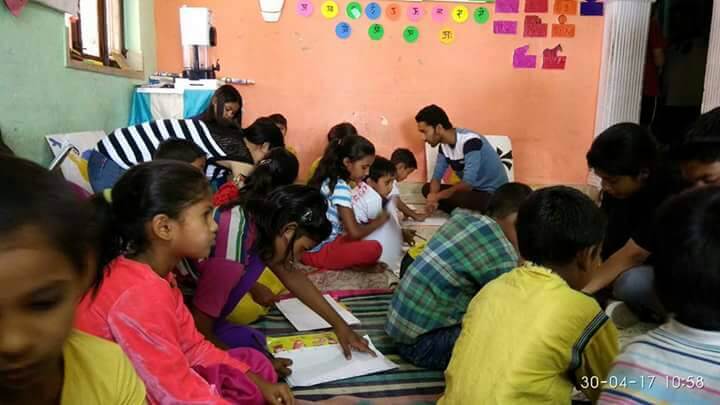 All volunteer in Pratishtha Foundation were from dehadradun and uttarkhand and all were youngsters.
Currently we can say all the volunteers of Pratishtha Foundation are the founder members and Deepak Kothiyal is the president and Pranjal Sharma is the Vice President of the Pratishtha Foundation. Pratishtha Foundation is actually doing what other may have thought but never had courage to initiate it and the best part which differentiate them from others is that even when they are few in numbers, they are doing their best to educate and implant life skills to those darker section of society so that they can also live a self-reliant life in future.
Also, empowering and educating women in a male dominating society is something which is highly appreciable.
Volunteers who are associated to this foundation are willing to put whatever possible to bring such common goal a reality, no matter their contribution is big or small.
They are real heroes of the society who may not be visible or may not get appreciated but working really hard to bring such change in the society and mind it, it's not for monetary benefits at all but for serving the society and for uplifting and valuing the weaker section of the society.
Hats Off Guys.