India is the world's fastest growing internet market. According to the G20 National Internet Development Report, India's internet user base grew by 51.9% in 2015, the fastest growth rate of all member states. India is also in the middle of a mobile startup wave.
Smartphone shipments in India registered a growth of 15% annually in the first quarter of 2017, reaching 29 million units, according to business portal Statista.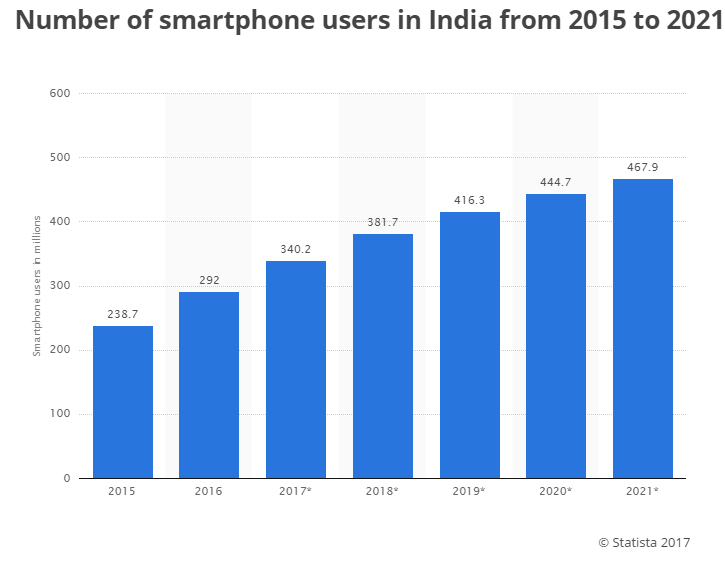 "Globally, shipments passed the one billion-mark for the first time in 2013, and are forecast to total almost two billion units by 2019"
Statista noted.
By 2019, it is expected that India is to have 15% smartphone shipment market , at third number US with 10% and fourth number 4% Brazil. This report by a Germany based research and business intelligence portal Statista.
Although, China is a tough competitor of US in the smartphone market but China is expected to maintain its leadership, with nearly half of all smartphone shipments worldwide. China's mobile internet penetration rate is 44.91% as of 2016. If you estimate China's population at 1.4 billion people, that means that China has 629 million mobile internet users.
India, on the other hand, has a mobile internet penetration rate of 24.33%, or 316 million people (total population 1.3 billion). When you compare the two countries, India possesses roughly half the mobile internet users as China. So India to become second largest Smartphone shipments by 2019.
Smartphone shipments in China grew a modest 4% in the first quarter of 2017 and smartphone brands like Oppo and Vivo saw the fastest growth followed by Huawei , extending their lead over Apple , Xiaomi and Samsung by a large margin.
According to Counterpoint Research(New Delhi-based ), global smartphone shipments hit 11% in the first quarter this year compared.
A total of 375 million smartphone units were shipped in the first quarter of 2017.