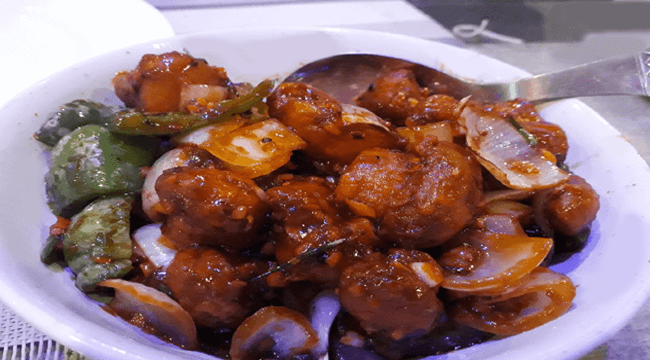 Chilli Mushroom dry is Indo – Chinese recipe which are very easy to prepare, tasty and famous in India. You can serve this recipe as a starter in party.
Time – 40 minutes
Serve – 4 people
Ingredients of Chilli Mushroom
Fresh mushrooms – 250 grams
Corn flour(optional) – ½ tbsp. (Whisk in ½ cup water and make thick solution)
Onion – 2 medium size(chopped in square and separate layer)
Capsicum – 1 medium size (chopped in square)
Garlic – 10 cloves (finely chopped)
Tomato sauce – 1 tbsp
Soya sauce – 1 tbsp
chilli sauce – 1 tbsp
Spring onion – 1 tbsp
Salt – as required
Oil – 2 tbsp.
Ingredients for batter
Maida(Plain flour) – 1 tbsp
Corn flour – 1/2tbsp.
Black Pepper – 1/3rd tbsp crushed
Turmeric – 1/4th tbsp.
Red chilli powder – 1 tbsp
Ginger, garlic paste – 1 tbsp
Garam masala – 1/2 tbsp
Salt – as required
Oil – 2-3 tbsp
Water – as required
How to prepare batter for Chilli Mushroom?
Take a bowl and add all ingredients like maida, corn flour, turmeric, red chilli powder, garam masala, pepper, ginger & garlic paste, salt, oil and water.
Whisk smooth all ingredients and make batter thick.
Add Mushroom in prepared batter and coat well.
Take a pan and place on gas and heat it.
Deep fry Mushroom in hot oil at medium flame till golden and crispy.
Transfer fry Mushroom in plate and drain excess oil with a tissue.
How to prepare Chilli Mushroom?
Take a pane, add oil and heat it.
Add garlic and fry it 1/2 minute at medium flame.
Then after add chopped onion, capsicum and fry it 3-4 minutes at high flame.
Add chilli sauce, soya sauce, tomato sauce and stir well it ½ to 1 minute.
Again add paste of corn flour and mix it.
Lastly add salt and chilli mushroom and mix well or if possible then toss well and fry it for 1 minute
Off the gas flame.
Transfer prepared chilli mushroom in plate and garnished with spring onion. Server hot chilli mushroom with fried rice.